Alison Bechdel's FUN HOME
The service having id "propeller" is missing, reactivate its module or save again the list of services.
The service having id "buzz" is missing, reactivate its module or save again the list of services.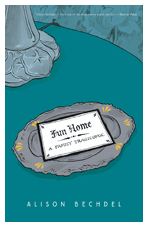 A 20 year-old staple in lesbian-feminist studies, Alison Bechdel's Dykes to Watch Out For series offers a female-centered novella-world chock full of quotable one-liners by the fictional, fretful Mo and her host of uproarious friends. In other words, if you're queer and politicized, Dykes is required reading. So is Bechdel's new graphic memoir FUN HOME (Houghton Mifflin). This heart-gripping confessional can, no doubt, be read alongside sociological titles on masculinity. But it's not nerdy, I swear. Printed in black, white and powder blue, the book can be viewed as a somber—but masterful—departure from Dykes, but with its wincingly sharp humor.
FUN HOME revolutionizes the comic form. Bechdel creates hauntingly intimate portraits of her troubled father, Bruce, who is an undertaker ("fun home" is short for funeral home), a passionate historic preservation expert, a dutiful but distant parent and a closeted homosexual. The book is illustrated in Bechdel's signature gothic style—as dark and detailed as Edward Gorey, as expressive and precise as Marjane Satrapi. FUN HOME, despite its matter-of-fact tone, is a true story bursting with good novels. Bechdel writes, "The line that Dad drew between reality and fiction was a blurry one." Likewise, in an effort tell her father's rich and complicated story, she makes countless references to legendary works by Albert Camus, Henry James, and Oscar Wilde, among others. Indeed, the literary parallels are eerie: Bruce Bechdel threw himself in front of a Sunbeam truck at age 44, his suicide as homage, perhaps, to one of his favorite authors, F. Scott Fitzgerald. Bechdel notes that Scottie's lifespan creepily counted out to the same number of months and weeks as her father's. Nonlinear in approach, much of FUN HOME reads like a mystery novel. As the author/detective struggles to piece together her father's short, silent life, she draws from the early love letters he sent to her mother, his secret photographs, as well as the highlighted phrases and ominous notes he scribbled in the margins of his many books.
Alternately calling herself an "inversion" and "translation" of her father, Bechdel also chronicles her own queer life—from her aching, early sighting of a butch dyke at age four to her bookish "coming out" process in college. She analyzes and discusses her childhood journals with the cool aesthetic distance of an English teacher (Bruce was also an English teacher). Correspondingly, a reader may want to have a dictionary handy as weighty words like postlapsarian and crepuscular pop up every now and then. Nevertheless, FUN HOME is a down-to-earth exposé about a lesbian mourning and missing her seemingly conventional father, a self-made man masked in mystery. During his brief, shrouded life, Bruce's hands caressed books, paintbrushes, flowers and hammers, but rarely touched his only daughter. Alison Bechdel finally reaches out to him in her polished, memorable memoir, "a family tragicomic" in seven perfect parts.
—Lenelle Moïse Lenelle Moïes is a writer and performance artist living in North Hampton, MA. Find her on tour, www.lenellemoise.com
Tweet