Boob Tube: Fall Report Card... and ZOMBIES (!!!)
The service having id "propeller" is missing, reactivate its module or save again the list of services.
The service having id "buzz" is missing, reactivate its module or save again the list of services.
October 22nd, 2010 | 5:18 pm
Fall means back to the work/grad school grind for this TV Geek, but I've still managed to catch bits and pieces of some of the new fall shows. How does the 2010 crop measure up? Let's see, shall we...
Undercovers
NBC, Wednesday 8/7c
I'd been looking forward to JJ Abrams's spy series all year long. Alas, it has turned out to be the single biggest disappointment of the brood. The commercials had me thinking this one'd be a good ol' fashioned spy caper, with plenty of action and a heaping helping of sexual tension and hot hot hotness, given the immense humpability of the lead couple. I hearted Alias, after all. JJ Abrams wasn't going to let me down! Truth? I tried to watch the pilot three times. THREE TIMES. And never made it past the second act. Total snoozefest. For reals. Painful.
Lingering question: Was it Abrams's idea or Gugu Mbatha-Raw's to have her stand around with her mouth hanging open in every scene like a fish out of water? Dude. Way to visually dumb down your female lead, thereby irritating the bejeezus out of this girl power action-adventure fan. Sydney Bristow would not approve!
Final Grade: D-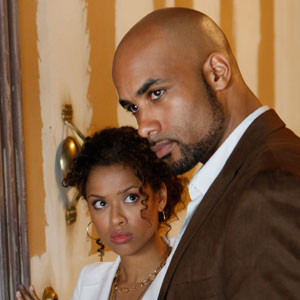 All hunky-sexy brawn and no brains. Boo.
The Event
NBC, Monday 9/8c
Despite some moments of brills in the casting (Laura Innes as passive-aggressive alien race mama grizzly! Blair Underwood as POTUS!), NBC's widely touted heir to the whackadoodle mindeff that was Lost falls short of the mark. Why? Because it lacks Lost's heart. We fell in love with Jack, Kate, Claire, Charlie, Sayid, Sawyer and Hurley before the pilot was even over, because we were allowed to see their humanity in the face of danger, terror and tragedy. Not so with the folks of The Event, who seem so intent on running around like people-shaped-chickens-with-their-heads-cut-off that it's hard to get to know what makes them tick, much less care as the frenetic pace continues to spin out of control. I'm still tuning in every few weeks if I have time, but it's all a little meh.
Lingering question: Does Sophia end up with a hot firefighter?
Final Grade: C-
Tweet