Jonezing for Jennifer Elia
The service having id "propeller" is missing, reactivate its module or save again the list of services.
The service having id "buzz" is missing, reactivate its module or save again the list of services.
Every so often I go back and re-read my old celebrity crush blogs, mostly to enjoy my fabulous blogging style but also for accuracy. Is #1 still # 1? Yes. Is #2 still #2? Sure… and so on. So much in-depth analysis goes into my celebrity crushes I never thought I'd see the day when I'd have to retract one of them. Despite feeling obligated to go through the sludge that is blogger's remorse, I refuse to go one more blog without mentioning a celebrity lady love. Somehow I'll have to figure out a nice segue to the awesome that is my latest crush, Jennifer Elia.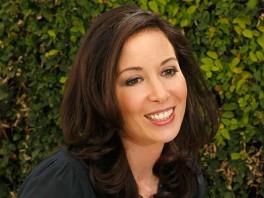 Go easy on me, I'm not fully retracting my Dances with Chicks Chaz Bono blog entitled, "Chaz Bono: Put Down the Hater-Ade." Much of the sentiment is still the same. I still believe we shouldn't hate on people for what they are, or (as Gaga would say) how they were born. That being said, I do think we should be able to hate on people for their behavior. If I don't like you because of how you behave, I have every right to call you out for your asshole-y behavior. I love every LGBTer out there because I know how hard it is to just be you in this world, but Chaz Bono… you've been moved to my poop list.
Feel free to send me your nastygram tweets and emails, but after watching the latest installment of the Documentary series Being Chaz, I feel like it could have also been called, Being a Dick. Pun intended. I feel like you can always judge someone's character by how they treat the people they love, and his treatment of Jennifer (his then girlfriend) was fucked up… don't worry, I have evidence!
Exhibit A: The Barbershop Scene. Seemingly innocent enough. Chazzie B goes in for a haircut. He announces he's finally proposing to sweet, sweet Jennifer and is immediately met with consolation. "Marriage sucks. Good luck with that man, Sorry to hear!! Har, har, har." I understand that Chaz was instantly inducted into the idiot-clan that is the average group of dudes shootin' the shit, but seriously? If I'm about to marry someone—BY CHOICE—I'm ecstatic about it. Just because Toothless Joe had a bad marriage doesn't mean I'm about to. I'll let the Chaz chuckle that took place slide
Tweet