Saturday Shopping With Amy
The service having id "propeller" is missing, reactivate its module or save again the list of services.
The service having id "buzz" is missing, reactivate its module or save again the list of services.
Hey gals! So, one of my favorite shopping trips is via email with my BFF, Sue. She recently moved from Chicago to the countryside of Massachusetts. Aside from being a country mouse, Sue is a new mom and so is struggling with her giant boobs and changing body size. As a city mouse, I have the luxury to not worry so much about functional fashion. This means, however, that I make poor and impulsive choices: Luckily, I can count on Sue to stop me from buying ugly outfits. Today we went (online) shopping for fall clothes. You don't have to be a student to go back-to-school clothes shopping!
Amy: Jackpot! Check out this website, Rusty Zipper . They're all vintage, and you can shop by type of clothing- like dress or top, sort by decade! (amaze) and size (perf)!
Sue: Urgh, I am smitten. Any store that organizes by size is my bestie for sure. I actually avoid all thrift stores that are not sorted by size, then by color. It is so frustrating to go through rack after rack seeing cute clothes but having them be nowhere near my size.
Sue: I just bought this cowl neck from Lane Bryant in green last night. I am wearing it as I type this. It's FAB!!! You can't really see from the pic but there are gold buckles that tie up the sleeves that are just to die. Plus, I can pretend I am a "city mouse" by pulling the cowl neck up over my head and looking all sleek and "high fashion."
Amy: Oooh! I love that. Wearing the neck normal is a nice basic look that works well in the country with some jeans or something and in the city with a leather skirt. Wearing it like a snood scarf, a la Lady Gaga, is a great idea! How would one pull that off? I feel like I'd have to be outside and pretend like I'm cold. wearing it like a hood inside would seem ridiculous, unless you are, you know, LGG herself.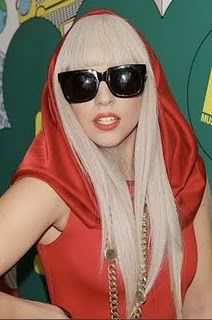 Sue: I only noticed the look as I pulled it over my head this morning. I may or may not have stood in the mirror looking all fab for a sec this morning.
Sue: I may be a country mouse, but this city dress
Tweet