ThreeWay: Vaginas Singing
The service having id "propeller" is missing, reactivate its module or save again the list of services.
The service having id "buzz" is missing, reactivate its module or save again the list of services.
Amy: Lilith Fair is fast approaching and Jessica tells us sales are down. Does that mean something about female musicians?
KL: It means everyone is broke.
Julia: I dunno, the tickets are really cheap.
Jessica: There are tons of other music festivals that seem to be doing well.
Amy: Yeah, in Chicago, Pitchfork is happening the same weekend. That will sell out for sure.
KL: I think it's at the same time as michigan?
Jessica: Years ago when I went to Lillith Fair it was an important part of my development as a radical feminist lesbian
Julia: I went every single year, all three years it ran.
Amy: Same. So will you go this year?
Jessica: But personally, I don't need those female identified spaces in the same way anymore.
KL: I do. I hate men. It's at the same time as Michigan, so no way.
Julia: No, it's right before my vacay week so I'm not planning on going this time. I might change my mind depending on how broke my ass is.
Amy: I feel like I want to support it. Plus, the musicians are surprisingly good! Mary J, Kelly Clarkson, Gossip, La Roux…
KL: Mary J Blige? I'm dying.

Mary J Blige, giving Lilith a few cool points

Jessica: Maybe they need a better marketing campaign. Less hippie more hipster
Jessica: Feminism needs a make-over.
Julia: Less hippie, more queer would be nice, too.
Jessica: yes Julia!
Julia: Or less lezzie, more queer.
Jessica: I like queer as a category for musical gathering and not just vaginas
Amy: Me too, but a lot of people still need a vagina fest.
Jessica: Unless there is actually a Vagina onstage singing... that would be cool.
Amy: Just because we might not, it's just as important for some women as it once was for us.
Jessica: is it?
Amy: I think so; we live in an evolved bubble.
KL: meaning what? that we're evolved so we don't need women-only spaces anymore? I just like being able to romp around naked and not dealing with nasty guys and their commentary. p.s. I just bragged about getting catcalled.
Jessica: Wait, folks get naked at Lillith?
Julia: Nobody gets naked at Lilith.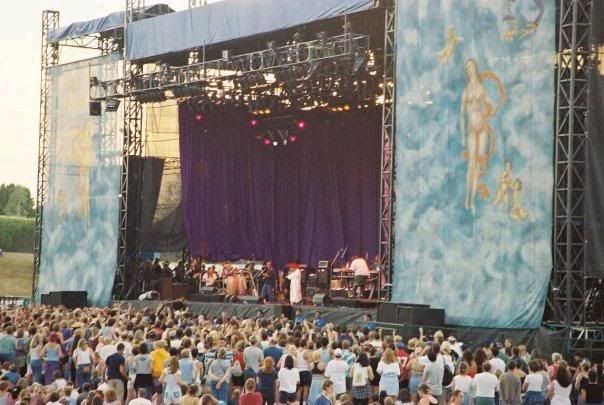 I spy two men and they're shouting, "Play Free Bird!"
Jessica: I'm not equating Lillith with a woman only space, I'm saying as a category for marketing music...
Amy: I think it's a venue for female-identified musicians to get spotlight that they might not
Tweet