Why Your State Sucks
The service having id "propeller" is missing, reactivate its module or save again the list of services.
The service having id "buzz" is missing, reactivate its module or save again the list of services.
By Anonymous on January 27th, 2011 | 4:08 pm
Ever since I moved to Philadelphia I've been having identity issues. I just don't know which state I identify with anymore. It's complicated. See, I'm originally from California. I was born and raised in San Diego, moved to San Francisco when I was 20 and lived there for 16 years. I spent the last 5 years in New York, then the Prof started teaching in Philly and we decided to relocate (I left NY for her. Now, that's love.)
I like Philly but I'm not quite ready to identify as Pennsylvanian. Right now I just feel like I live in a very far outer borough of New York. But you can't say that to Philadelphians or they'll shank you.
Right about now I bet you are wondering, "Why does any of this matter, Cage?" Well, I'll tell you. It matters because I discovered this wonderful map of the US that lists what each state is the worst at and I need to know what I should feel bad about.
Do I identify as a Californian (worst air quality) since that is where I was born and rasied? Or do I identify with New York (longest commutes). Or, should I just settle in to Pennsylvania and get fire insurance since Pennsylvania is guilty of having the highest number of deaths by arson.
For the record, Utah consumes the most porn, Louisana has the most gonorrhea and Maine has the lowest SAT scores. And Mississippi, well, Mississippi has issues: highest rate of obesity, highest rate of child poverty, highest rate of infant mortality, lowest median household income, highest teen birth rate, and highest overall rate of STDs.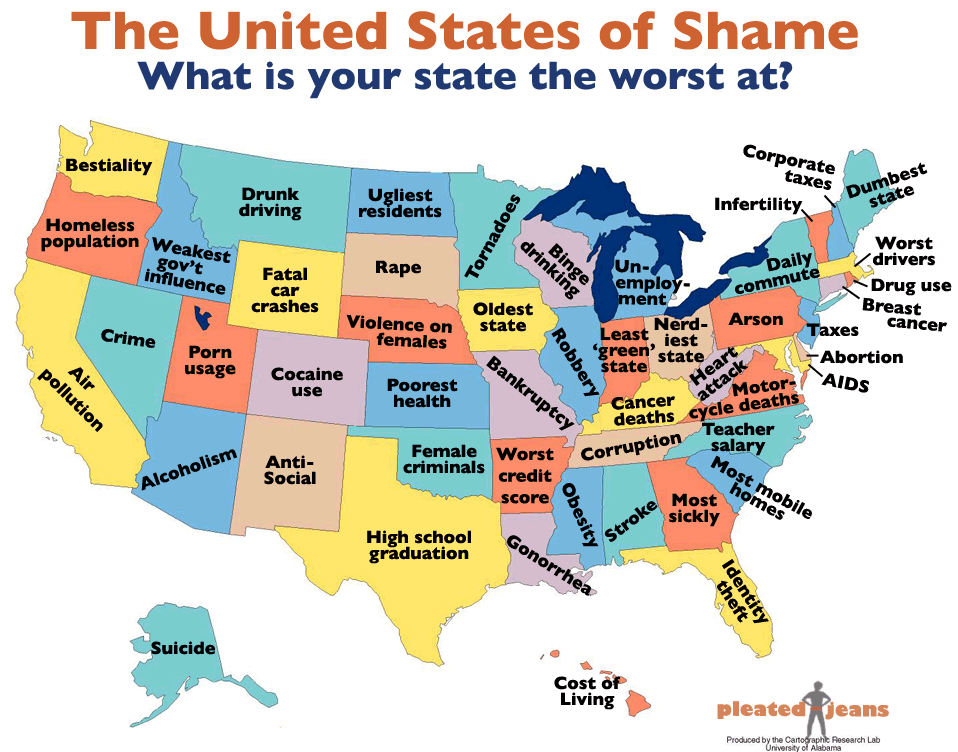 Read the full list of states with rationale and statistics here
Tweet