Fall means back to the work/grad school grind for this TV Geek, but I've still managed to catch bits and pieces of some of the new fall shows. How does the 2010 crop measure up?

Fall means back to the work/grad school grind for this TV Geek, but I've still managed to catch bits and pieces of some of the new fall shows. How does the 2010 crop measure up? Let's see, shall we…
Undercovers
NBC, Wednesday 8/7c
I'd been looking forward to JJ Abrams's spy series all year long. Alas, it has turned out to be the single biggest disappointment of the brood. The commercials had me thinking this one'd be a good ol' fashioned spy caper, with plenty of action and a heaping helping of sexual tension and hot hot hotness, given the immense humpability of the lead couple. I hearted Alias, after all. JJ Abrams wasn't going to let me down! Truth? I tried to watch the pilot three times. THREE TIMES. And never made it past the second act. Total snoozefest. For reals. Painful.
Lingering question: Was it Abrams's idea or Gugu Mbatha-Raw's to have her stand around with her mouth hanging open in every scene like a fish out of water? Dude. Way to visually dumb down your female lead, thereby irritating the bejeezus out of this girl power action-adventure fan. Sydney Bristow would not approve!
Final Grade: D-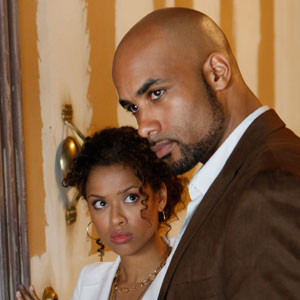 All hunky-sexy brawn and no brains. Boo.
The Event
NBC, Monday 9/8c
Despite some moments of brills in the casting (Laura Innes as passive-aggressive alien race mama grizzly! Blair Underwood as POTUS!), NBC's widely touted heir to the whackadoodle mindeff that was Lost falls short of the mark. Why? Because it lacks Lost's heart. We fell in love with Jack, Kate, Claire, Charlie, Sayid, Sawyer and Hurley before the pilot was even over, because we were allowed to see their humanity in the face of danger, terror and tragedy. Not so with the folks of The Event, who seem so intent on running around like people-shaped-chickens-with-their-heads-cut-off that it's hard to get to know what makes them tick, much less care as the frenetic pace continues to spin out of control. I'm still tuning in every few weeks if I have time, but it's all a little meh.
Lingering question: Does Sophia end up with a hot firefighter?
Final Grade: C-
Chase
NBC, Monday 10/9c
Yeah, I couldn't get all the way through this pilot either. Again, really fun casting (Rose Rollins! Dude from Prison Break!) Dialogue so bad it gave me the urge to Slushee my TV screen. Even scenes of all those perty people running around after criminals, being badasses isn't enough to get me to sit through what are essentially exposition-heavy monologues broken up so that each character in the ensemble gets to say a line directly to camera. WEAK. WEAK SAUCE.
Lingering question: Zzzzzz. Wha-huh? Wait, where's Alice Piezecki? This show could really use her smarts and snark, even if she would probs just sit here making fun of it with me.
Final Grade: F
R.I.P., Chase. Bang, bang, my gayby shot me down…
Running Wilde
Fox, Tuesday 9:30/8:30c
Hrm. Pilot was funny, and I actually made it all the way through! But this one lacked the hilarity factor required to hold my limited attention span. If I wasn't a crazed, cranky graduate student who has to sometimes choose between sleep and keeping up with my DVR recordings, I might have stuck with this offering. Love the cast. Appreciated the smart and silly comic writing, and the effort that went into putting some heart in here.
Lingering thought: Wish I couldn't stand to quit you. But I can.
Final Grade: B
Raising Hope
Fox, Tuesday 9/8c
Holy poop. If you watch nothing else new this season, watch this! It's really easy, since it's after Glee and I know you hookers are all Gleeks at heart. Dark, fanstically effed up humor with so much heart it bleeds a little. Best part? The smart(alecky) dialogue and lovably crazy characters: Cloris Leachman as dementia-riddled great-great-grand-"Maw-Maw," who occasionally mistakes her hen-pecked grandson for her late husband? A protagonist who may be dumb as a post, but he's so damn sweet and well-meaning that you just can't help but root for the poor schmuck while he tries to figure out how to raise his infant daughter? A snarky, sassy, way-out-of-his-league (or not…) love interest? And Cromartie and the nerdy girl from The Goonies as the youngest grandparents ever to hit your TV screens?! Um. Yeah. GENIUS. For reals, try this one. If you like your family comedy extra twisted, you won't be disappointed.
Lingering thought: Finally, a worthy successor to the Bundys' and Connors' legacies!
Final Grade: A (Withholding that "+" until I see if they can sustain the awesomeness for the full season they were just picked up for…)
They're raising MY hopes for the future of sitcoms alright!
Nikita
The CW, Thurday 9/8c
Oookay. I haven't actually had a chance to watch this yet, but I hear there are problematic if entertaining lesbian overtones. Boob Tubers, fall in! Anybody watching this reportedly hot mess?
Lingering thought: Is the eye candy factor worth how bad this show probably is?
Final Grade: TBD
To Watch For…
Monday! Debra Winger takes Dr. Paul's couch for a spin (As a new patient. Pervs.) on the season premiere of In Treatment (HBO, 9/8c and again at 9:30/8:30c). Fictional Big Brother contestants remain in ignorant bliss as a zombie apocalypse commences in the world outside on the series premiere of Dead Set (IFC, midnight/11c). Six—er, the very hot Tricia Helfer steps in to distract Cal from facial-ticking his way to the truth on Lie to Me (Fox, 9/8c). Kings of Leon on Letterman. Condoleeza Rice on Craig Ferguson.
Tuesday! Three words: Glee + Rocky Horror. AHHHHHHH! (Fox, 8/7c… now? Okay, how about now?) Alan Cumming's on The Good Wife (CBS, 10/9c) this season?! Curse you, grad school cave. Even if we didn't get to see Jimmy play Dark Knight to Sabrina's Robin (hhhhot), tuning in for Maw-Maw in a Catwoman costume alone would be well worth it on Raising Hope (Fox, 9/8c). Paula Deen on Leno. John Stamos (talkin' Glee, one presumes) on Jimmy Kimmel.
Wednesday! Taking a page from Top Chef's infamous Restaurant Wars challenge, Top Chef: Just Desserts promises more delicious drama than ever this week when the contestants have to work together to open their own competing pastry shops (Bravo, 10/9c). Judd Apatow (maybe he'll talk about his new movie deal with Boys Don't Cry helmer Kimberly Pierce!) on Leno. Marg Helgenberger on Craig Ferguson.
Thursday! Mike Meyers, Cameron Diaz and Antonio Banderas team up once more for some Halloweeny goodness with their holiday special, Scared Shrekless (NBC, 8/7c). Old fave It's the Great Pumpkin, Charlie Brown returns to haunt the punkin patch once more (ABC, 8/7c). Okay, regardless of whether Mondo wins or not, someone for realsies needs to give this talented, adorable, differently-dappered dude his own show after the finale of the most fun season of Project Runway (Lifetime, 9/8c) I think I've seen yet. Grace Moon's gf, writer Meghan McCain on Jimmy Kimmel.
Sunday! At long last, the much anticipated post-apocalyptic zombie drama, The Walking Dead (based on the graphic novel of the same name) makes it's timely debut (AMC, 10/9c) on All Hallow's.