April 27, 11:15 a.m.
April 27, 11:15 a.m.
As previously reported (see the entry below dated April 26th), Showtime ran a preview of The Real L Word: Los Angeles last night after The United States of Tara. The preview profiled all six of the primary castmembers. Here's a breakdown of what we learned about each one:
Mikey: "I don't live my life for my sexuality at all. I think the whole point is just to be you." Grew up in the projects, worked her way up to build her own business (she produces LA Fashion Week) and wants to use the experience of being on this show to promote the idea that "it doesn't matter who or what you are, you can be anything you want to be."
Whitney: "I am on a constant journey for love… and I think a lot of times I get caught up and distracted by lust." She says it just so happened that some major dyke drama went down in her life during the first week of shooting, and implied that she might come off looking less than great after the show has its run.
Rose: In the original L Word, the character of Papi was "loosely" based on her. In a clip shown from the upcoming season of the show, she is seen talking to friends, saying, "I hate being single… that's why I fuck, like, five girls at a time." Looking back on that period in her life just a few months later, Rose says, "Now I'm a more mature version of that character who just realized… that kissing is cheating. You're going to see someone who was an avid club-goer and who used to kiss a lot of girls slow down because I fell in love. It's a lesbian coming-of-age story."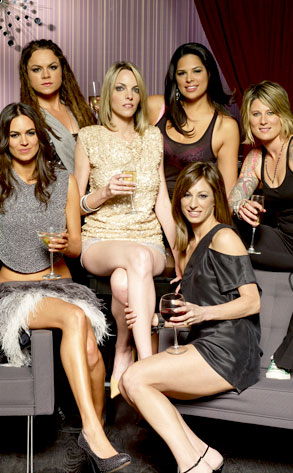 Clockwise, starting from the far left: Tracy, Whitney, Nikki, Rose, Mikey, Jill
Tracy: Is in a new relationship in which one of the biggest challenges is that her girlfriend has kids.
Nikki and Jill: Have known each other since they were kids and used to go to summer camp together. Nikki's first boyfriend was Jill's brother. As per Nikki, on the way she and Jill identify: "There really isn't anything different about Jill and I besides that fact that we're two women. I mean, I say we're like, the straightest gay couple I know." Jill adds, "You can just live and be, and it's not that big of a deal."
I have two immediate reactions to what I saw in this preview…
Reaction the first: Despite the yet again repeated insistence by Rose that this group represents a truly "diverse mix of girls," they still look awfully white and awfully Glamazonian to me. Particularly given the apparent lack of racial and gender diversity, the fact that Tracy and Jill appear to think of themselves as a "straight" lesbian couple is probably going to make me foam at the mouth.
Reaction the second: If that blonde bombshell seen canoodling with Rose is the girl she is settling down with and we get to see them roll around scantily clad every week, I may well be too distracted to work up a respectable level of mouth-foaming lesbian rage.
In conclusion? That Ilene Chaiken is still one crafty lady.


**Update** 6:34 p.m. ET, holy Camp-tastic can we deconstruct this poster?
April 26th, 11:26 a.m.
Apparently, a few cast members from Showtime's The Real L Word: Los Angeles made a fledgling media appearance at last weekend's GLAAD awards. Some interview snippets have surfaced in their wake, revealing more info about the show, including:
The L Word's tradition of explicit sex scenes may live on in the spin-off reality series, as cast members report being filmed even while doing the deed.
The cast members insist that there is more diversity on the show than suggested by the initial publicity cast photo in which the entire cast apppeared to be white and glam-girly. Even so, one cast member's promise that the show represents "a vast depiction of LA lesbians" leaves this Editor in stitches.
An interesting development on the gender diversity front: at least one cast member (Mikey, seen suited up in the pic below) self-identifies as butch.
But wait! There's more! Set your DVRs: rumor has it that Showtime is running a sneak-preview of the series tonight after Nurse Jackie and The United States of Tara. Will you watch? Regardless, be sure to report back here to the Park tomorrow for what I'm sure will be a rousing, post-preview-watching discussion…