Velvetpark's editors knocked our heads together and came up with the Top 25 Queer Women of 2009. We chose these women based on having advanced LGBT visibility, culture and/or policy.

Velvetpark's editors knocked our heads together and came up with the Top 25 Queer Women of 2009. We chose these women based on having advanced LGBT visibility, culture and/or policy. Our numbering does not constitute any sort of ranking system; we love and honor them all equally and here's why:

1) The Tigerbeat Teen Heartthrob – Ceara Sturgis, Gay Activist
We hear a lot about the power of the younger generation in the fight for queer equality, and this year there emerged one face, one voice from the crowd who stood up for herself, and by proxy, the rest of us. When boi-ishly handsome, 17-year-old Ceara Sturgis wore a tux in her senior photo, school officials tried to ban the picture from appearing in the yearbook, citing a rule about "cross-dressing" that turned out to be completely made-up. Rather than acquiesce to being excluded just for being herself, the openly gay high school senior spoke out about what was happening, garnering national media attention and becoming a spokesperson for gay rights practically overnight. One of the especially lovely things about this story was the support Ceara has from her mom, who has stood by her side, advocating for her daughter's rights. If Ceara is any indication of the future of the LGBT movement, we have a bright future ahead.
2 ) The Art Star – Mikalene Thomas, International Artist
In 2008, Mikalene Thomas took the art world by storm, appearing in all of the major art festivals from Basel to Miami, and blossoming into a full-fledged art star in 2009 with her first solo show at Lemann Maupin Gallery. Creating works of photogrpahy, mixed media and painting, Mikalene has been exploring stereotypes of black femininity and sexuality as well as how women fit into the history of art. An out lesbian, Mikalene has turned the art world on its ear, placing previously marginalized imagery into the canon of Western art.
3 ) The Brains of the Operation – Rachel Maddow, Political Analyst/TV Show Host
Rachel Maddow really found her voice and solidified her standing this year as one liberal media personality not to be messed with. She stood, sat actually, stool-to-stool with Tom Ridge, Susan Rice, Tim Phillips, Rick Berman, Tim LaHaye and Jerry B. Jenkins, Richard Cohen, and so many more, never backing down, always pushing through on calling their shenanigans. The balance of brilliance, courage, humanity, and authenticity that is Rachel Maddow is something to celebrate. It's just that much more special because she has The Gay.
4 ) The Wordsmith – Sarah Schulman, Novelist/Playwright/Historian/Activist
Sarah Schulman's resume reads like a history of the last 30 years of queer activism. She has been at the forefront of our LGBT rights struggle as a critical member of organizations like ACT UP, the Lesbian Avengers, and the arts and culture MIX festival. On top of that she's done all of it while producing nine novels, four nonfiction books and a play. This year she published the groundbreaking Ties That Bind, a book that explores the abuse of familial homophobia. Schulman has no fear in tackling those subjects we are most afraid to look at.
5 ) The Whistle Blower – Pam Spaulding, Blogger

While it seems our LGBT Rights organizations have been content to wag a finger or two at the behavoir of politicians and the broken promises of the Obama Administration, it's been the bloggers who have been front and center of our fight. Pam Spaulding has been on the scene since 2005, picking through every press release, news story, or relevant tip, elucidating the information for the rest of us. Blogging from her site Pams's House Blend, Spaulding has taken our failed LGBT leadership to task, launching an organization called the Dallas Principles with other like-minded thinkers, donors and activists, committed to not leaving any part of our community behind in our struggle for civil rights.
6 ) The Truth Teller – Staceyann Chin, Poet/Performance Artist/Activist
Of everything we read in 2009, nothing had heart (or teeth) quite like Staceyann Chin's queer memoir The Other Side of Paradise. The book traces renowned poet and performance artist Chin's early life in Jamaica, beautifully detailing the origins and development of the "big mouth" that marked her as an artist, an iconoclast and a "troublemaker" from early on. A compelling tale of a young girl who overcame poverty, neglect and abuse armed only with courage, brains, and sheer obstinacy, Chin's story is heartbreaking and uplifting all at once, an utterly absorbing read.
7 )The Great Debater – Therese Stewart, Civil Rights Attorney
When Therese Stewart argued before the CA Supreme Court as part of the legal team challenging the constitutionality of Prop 8 in early 2009, she single-handedly made lawyering seem wicked sexy alluva sudden. A third-generation San Francisco resident, Stewart married her partner of 17 years before Prop 8 was passed by California voters in November of 2008 and her impassioned and eloquent argument on behalf of the rights of same sex couples was truly magnificent to behold. On the subject of "separate but equal" civil unions, she says: "The question is, can the state exclude gay people from marriage, from all its tradition and prestige, and instead have a parallel institution and say it's equal? Of course not. Because symbolically it tells our society something it's been telling us for a long time: Your relationships are not the same."
8 )The Prom Queen – Beth Ditto, Musician/Fashionista
Formerly a queer underground gem, The Gossip's Music for Men (on many top albums of 2010 lists) thrust the band into unexpected, yet much-deserved international stardom this year. Lead singer Beth Ditto has one of the most amazing voices in music today, and so to see her garner so much attention is thrilling. Beth has always been a fat femme queer activist and fame is not changing that one bit. She has always talked about the fact that dressing fabulously is hard for larger people and so has had to rely on her DIY sensibilities, altering and/or making her own clothes from day one. This year she realized her dream of fashion design by launching her own plus-size clothing line for British store Evans. She rocked the world by posing nude once again (she previously graced the cover of NME sans-clothing) for LOVE Magazine, shattering traditional beauty standards and becoming a role model for women of all sizes. (In 2010 look out for Beth's memoir, Coal To Diamonds, written with help from her buddy Michelle Tea.)
9 ) The Envelope Pusher – Wanda Sykes, Comedian/TV Show Host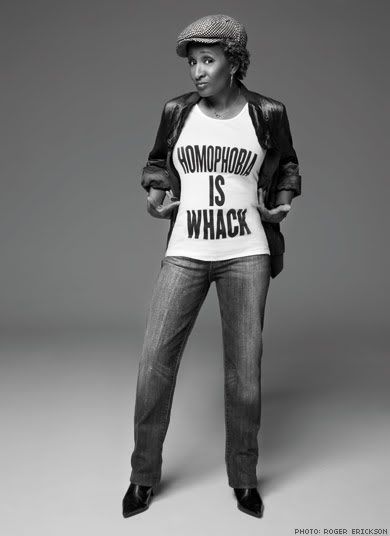 Contrary to most Hollywood stories, it seems that coming out publicly at the end of last year only boosted Wanda Sykes' career in 2009. The first African-American woman and the first openly gay person to ever perform at the White House Correspondents' dinner, her now infamous jokes about Rush Limbaugh, Sean Hannity and Sarah Palin showcased Wanda's impeccable cutting-edge comedic talent. The controversy that ensued didn't stop Wanda from scoring her own self-titled late night show on FOX, as well as her second stand-up comedy special on HBO, "I'ma Be Me," all while returning as "Barb" on the hit sitcom, New Adventures of Old Christine. Wanda continues to push boundaries and bust through the glass ceiling for female comics and remains a fierce advocate for LGBT rights.
10 ) The Historian – Angela Jimenez, Photographer
Angela Jimenez began work on Welcome Home: Building the Michigan Womyn's Music Festival, a book documenting the experiences of the 35-year-old women only music festival, six years ago. This was no easy feat for a festival notorious for its privacy and closed communal rules. This summer Jimenez self-published the book and sold through her first run. As a documentary photojournalist Jimenez has been bringing queer stories into the MSM for several years. In 2007 she published two stories for the New York Times; "Lead, Follow, Lead" about same-sex ballroom dancing and "Daughters of the Dinah, Unbound" about the Dinah Shore event. Her last project Welcome Home, Jimenez has established herself as one of queer culture's visual historians.
11 ) Girl on the Scene – Kerry Eleveld, White House Correspondent
After doggedly following the primary campaigns into the general election of '08, reporter Kerry Eleveld became the first ever White House Correspondent for the gay press. Writing for The Advocate, Eleveld has broken significant stories and consistently brought LGBT issues into the Obama press room. Eleveld's weekly "View from The Hill" column has been an unfolding analysis of LGBT legislation, the political players within the administration, and our LGBT leadship this year. We look forward to 2010 as Eleveld continues to press Secretary Gibbs on all those unmet Obama campaign promises.
12)The Accidental Lesbian Icon – Meredith Baxter, Actress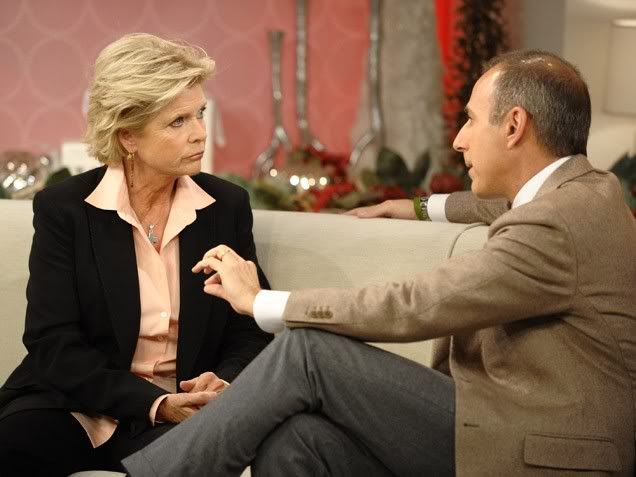 Whether she wanted to or not, Meredith Baxter became a lesbian icon this year. After photos of her on a lesbian cruise with her partner Nancy spread on gossip websites like wildfire, instead of ignoring or denying the rumors, Meredith took the helm and came out of the closet (to the mainstream public; most of gay Hollywood already knew) on the Today Show the very next day. Despite the fact that most of us hadn't thought of her since her days on Family Ties or maybe a Lifetime movie here or there, lesbians embraced Meredith and made her one of our poster women. She was admittedly anxious discussing the topic on the Today Show, so her comfort level with this role is yet to be seen. Either way, the spotlight will hopefully be good for her career and we look forward to seeing more of her in 2010.
13) The Community Organizer – Glennda Testone, Director of LBGT Center of NYC
Although Glennda Testone had only been director of the LGBT Community Center of New York for a mere six weeks, the Center became the staging area for a major piece of New York LGBT legislation. Gov. David Patterson signed The Gender Expression Non-Discrimination Act, which added gender identity and expression to the state's non-discrimination law, in the home and in the company of our community leaders. We look to forward to how Glennda will continue to strengthen our alliances as she brings our community together.
14) The Class President – Jóhanna Sigurdardóttir, Prime Minister of Iceland
Jóhanna Sigurdardóttir became Iceland's' first female Prime Minister, not to mention the world's first out Head of State after her predecessor stepped down this past year. The 66-year-old Jóhanna and her left wing coalition government inherited a bankrupt country. Iceland's banking system collapsed in 2008, wiping out life savings and leaving the country in debt to banks in the European Union. Jóhanna, much like our own President, has been working to rebuild her country's economy, with the goal of bringing Iceland into the EU in 2010.
15) The Tireless Champion – Kate Kendell, Gay Rights Legal Council/Activist
Kate Kendell grew up gay and Mormon… in Utah. So then, it sort of makes sense that she was on the team leading the charge against Mormon-backed Proposition 8 to overturn gay marriage in California. Having served early in her career as the ACLU's first staff attorney in Utah, she made her way to the National Center for Lesbian Rights in 1994, eventually becoming the group's executive director in 1996. And every day she's out there fighting the good fight for LGBT equality.
16) The Tale-Spinners – Linda Wallem and Liz Brixius, Screenwriters/Showrunners for Nurse Jackie
It's the best show you're not watching. And its creators are out lezzies! Season one of Showtime's Nurse Jackie was replete with ballsy storylines, strong female characters, and a heaping helping of queer inclusion. And as if that weren't enough to make us love co-creators and showrunners Linda Wallem and Liz Brixius, (spoiler alert!) they've promised us a gay love triangle as a major storyline for the upcoming second season! We're hoping like hell at least two of the three corners of that triangle are occupied by upcoming guest star Julia Ormond and the hot, HOT Dr. O'Hara!
17) The Dark Horse Candidate – Annise Parker, Mayor of Houston
Annise Parker broke the pink ceiling this fall by being elected the mayor of Houston, the country's fourth most populous state. After serving on the Houston City Council from 1997 to 2003, Parker was elected City Controller for three consecutive terms. When she takes office next month, she will make Houston the largest U.S. city to have an openly gay mayor.
18) Ally of the Year – Diane Savino, NY State Senator
Diane Savino represents parts of Brooklyn and Staten Island in the New York State Senate and while she's not a lesbian, she earned her spot here as one of our besties. On December 2, as the issue of marriage equality stood before the State Senate, impassioned arguments were being made on both sides of the issue. People watching the proceedings were deeply moved by Savino's floor speech… well, except for the 38 douchebags who voted against the bill.
19) Funny Girl – Gloria Bigelow, Comedian/Writer
Comedian Gloria Bigelow has been recognized as a dyke to watch out for since she first appeared on Afterellen's podcasts back in 2007. Since then she has toured the country with her stand up comedy act, hosted Afterellen's Cherry Bomb video series, been featured in Laughing Matters: Next Gen, been the video host of LOGO's New Now Next Award party, and this year, Gloria was a headliner on the Sweet cruise. Gloria has a brillant way of turning queer activism and gay rights into comedy, and this is why she's already booked for gigs into 2010.
20) Guerilla Pornfare Warrior – Shine Louise Houston, Director
In the abysmally bleak sea of lesbian porn, amidst the occasional island oasis provided by reruns of The L Word, one woman and her band of indefatigable pornistas continue to churn out video and pictorial content that makes us blush in all the right places. Shine Louise Houston and her crew at Crashpadseries.com made lots and lots of terrific, sexy, diverse, funny, edgy, silly, and HOT HOT HOT dyke porn this year, incorporating performers representative of all manner of races, genders and sexual persuasions. Truly, there's something for just about every dyke porn palate here. That said, if we beg and plead (and flash a little cleavage, as needed), will you guys please bring back Jake and Princess Donna for Round 3 in 2010?
21)The Gay Marrying Kind – Cynthia Nixon, Actress/Gay Activist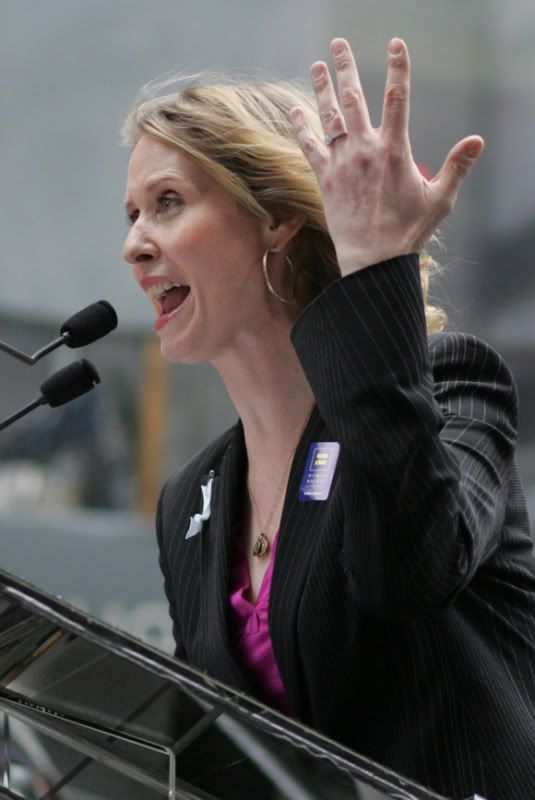 Cynthia Nixon has been on the forefront of the marriage equality fight since she came out with her partner in 2005. Nixon has been visible and vocal this year, announcing her engagement to Christine Marinoni, an education activist, at the Broadway Impacts Equality Rally in May, and giving an impassioned speech at the National Equality March Rally. In argument to the religious right she's said, "I hear that the right to legal same-sex marriage is seen as an attack on traditional marriage, and I want to say that you are not the ones being attacked, we are."
22)Captain of the Lesbian Loveboat – Shannon Wentworth, Entrepreneur
The idea of starting a cruise line for young queers has been a glimmer in the eye of Shannon Wentworth since she was a young baby dyke. This fall, Sweet Cruises launched its first ever eco-friendly cruise in the Caribbean. On this inugural tour, 1,200 queers made up of community leaders, activists, DJ's, authors, publishers, comics, entrepreneurs, filmmakers, actors, and celesbians, all set sail on a fun-filled adventure while off-setting their carbon foot print. Next stop: Hawaii.
23) The Class Clown – Jane Lynch, Actress
It's been a hell of a year for funny lady and out lesbo Jane Lynch. After years of scene-stealing bit roles on film and television, the actress has finally made an indelible mark in in the annals of pop culture as Sue Sylvester, the tyrranical, uber-un-PC cheer coach and resident villain on FOX's Glee. A huge hit with critics and fans alike, the series has been the biggest new show of the year, and Lynch, its fastest rising star. Most recently she garnered a Golden Globe nomination for her bitingly funny portrayal of Sue. How marvelous that the rest of the world finally sat up and took note of something the lezzie nation has known for years: Jane Lynch is freaking hilarious.
24) Not Your Mother's Pop Icon – Lady Gaga, Musician/Songwriter/Performance Artist/Fashionista
Lady Gaga's meteoric rise to success this past year has made for some of the most entertaining and fascinating moments in recent pop culture history, but it's her dogged devotion to the cause of equal rights for LGBT folks that earned her a spot on our list this year. Whether she's thanking "God and the gays" during every single award acceptance speech, raising money for homeless LGBT youth at her concerts or marching for gay rights and marriage equality on the nation's capital, the openly bisexual Gaga has proven herself a loyal and stalwart champion of the gay community. Plus, who else could pull off those "monster" 12 inch stilletto heels from Alexander McQueen?
25) Our Heroine – Judy Shepard, Founder of Mathew Shepard Foundation
Our second "honorary" queer lady on this list, for eleven long years after the horrific and senseless murder of her gay son, Matthew, Judy Shepard never gave up fighting for the hate crimes legislation named in his memory, and for the rights and safety of all the other LGBT kids and adults like him. It took an unconscionably long time for our government to get the Matthew Shepard Act passed and signed into law, but it finally happened in 2009. Without Judy's big-hearted and tireless activism to raise awareness and change hearts and minds, we may have had to wait another ten years for this historic piece of legislation to become law.
From all of us at Velvetpark, thank you all for your leadership. Keep up the good work. We are behind you all the way!